The 8th Annual Conference and accompanying seminar and workshops will be held on November 20-22, 2019 under a theme of "Overcoming Disparities in Translational Research". Events will be held on the Mona Campus of the University of the West Indies. Please see below for details; each event requires a separate registration.
Featuring distinguished local and international speakers, the events are expected to provide a stimulating environment where students and scientists will interact to plan their professional development, and discuss current areas of research and novel areas and technologies that are ripe for development.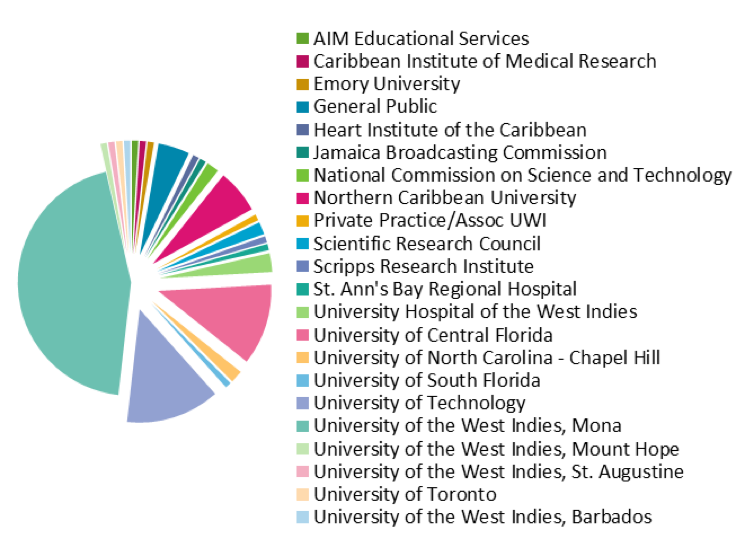 Attendee Field of Interest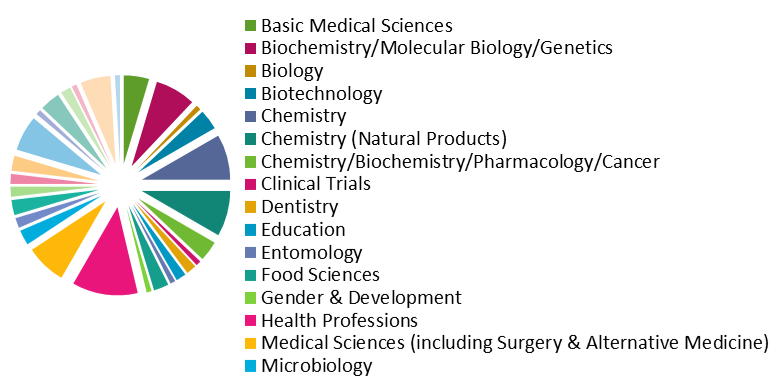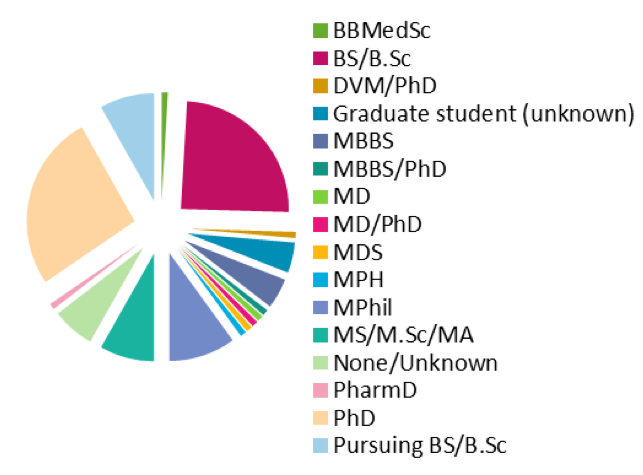 "As an undergrad student, it's amazing to see that people are researching and improving diseases in every aspect. It really has shown how in order for something to work, everyone needs to come together to work on it to see results."
"I learned a lot about the innovations in Jamaica and was unaware about the possibilities before."
"Updated my knowledge in the field. Thank you!"
"I am more aware about different topics. I have gained new knowledge related to my area of research."
"Excited about the impact it has on the Caribbean."
"It has shown me that there is much potential and current research that I did not know about."
"It gives me hope and motivates me as a researcher to find routes to target disease burden."
"After attending the conference, I have a much better understanding of the hardships some of the scientists are facing with their research and the fact that we need to work on communicating findings with the public and creating products the public can use based off our research."
The Scientific Session of the 8th Annual Conference on Friday, November 22, 2019 will be held at UWI, Mona. The conference will feature international and local luminaries within various fields of translational research. SOSA is cognizant of the importance of Career Planning in securing rewarding positions in various science-related tracks. Join us for our Professional Development Seminar on Wednesday, November 20, 2019 for our Professional Development sessions and  career panels. Please also get ready to volunteer for our 7th Annual STEPS workshops on Thursday, November 21!
Regular
Free
Register by Friday, October 11, 2019
Late
Payable at the door if registration is received after Friday, October 11, 2019
Sponsor
Bronze/Silver/Gold/Title tiers available. Contact us for details.
STEVE PATIERNO, PHD
Deputy Director, Duke Cancer Institute
Professor of Medicine, Professor of Pharmacology and Cancer Biology, Professor of Community and Family Medicine, Duke University Medical Center
Friday, November 16: Overcoming Disparities in Translational Research

Register for the conference HERE
8:15 Registration desk opens
8:45 WELCOME AND OPENING REMARKS
9:00 SESSION 1 – CANCER BIOLOGY & (EPI)GENETICS OF DISEASE
Chair: TBA, TBA
9:00 Dr. Trevor Archer, NIEHS, USA
TBA
9:45 Dr. Katie Hoadley, University of North Carolina at Chapel Hill, USA
TBA
10:30 Dr. Cheryl Stewart, University of the West Indies, Jamaica
TBA
11:00 BREAK & POSTER VIEWING
11:15 To be selected from abstracts
TBA
11:35 To be selected from abstracts
TBA
12:00 LUNCH
1:00 SESSION 2 – ENVIRONMENTAL SCIENCE & INFORMATICS
Chair: TBA, TBA
1:00 Dr. Laura Hug, University of Waterloo, Canada
TBA
1:45 Dr. Parris Lyew-Ayee Jr., Mona GeoInformatics Institute, Jamaica
TBA
2:30 To be selected from abstracts
TBA
3:00 BREAK & POSTER VIEWING
3:15 SESSION 3 – MACHINE LEARNING & GENOMICS TECHNOLOGIES
Chair: TBA, TBA
3:15 Dr. Daniel Kraushaar, Baylor College of Medicine, USA
TBA
3:45 Dr. Joshua Starmer, University of North Carolina at Chapel Hill, USA
TBA
4:15 To be selected from abstracts
TBA
4:30 CLOSING COMMENTS & ADJOURNMENT to POSTER SESSION & SPEAKER RECEPTION
4:30 Poster session begins
5:30 Poster session ends
5:30 AWARDS CEREMONY